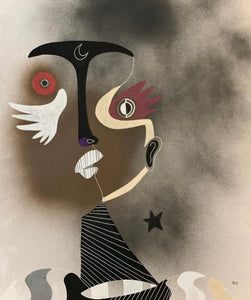 Aaron G. Arnold - Fine Arts
Lemur's Moonwalk by AGA - Pen, Marker And Spray Paint On Paper - 14x17 Inches.
Regular price
$275.00
$0.00
Unit price
per
"Lemur's Moonwalk" illustrates the many times when alone at night the mysteries of the heart, mind and spirits begin to reveal themselves. Unimpeded by the traffic of thoughts and daily tasks we begin to leap from dream to dream as a lemur swings from branch to branch under the warm and exotic moonlight. Conjure a dream in your heart and let it become a work of art in your life.
---